Up's services
Up acts as a growth partner to build first-class teams from an elite source of high-flyers.
Our specialism is in connecting successful, fast-growing companies with exceptional individuals who can make a significant impact in dynamic environments.
Our core services are:
• Head-hunting and recruitment
• Talent pool development
• Outsourced HR and recruitment services for SMEs and VC/PE firms

To maximise the effectiveness of the above, we also provide:
• Networking events
• Employer brand development and market research
For the first time, companies can get direct access to the best talent available and to exceptional levels of service through the Up network. They can feel confident that every individual introduced will have been pre-screened for skill-set, experience and cultural fit. The result: companies save time and money in the recruitment process.
All high-flyers
Members of our network share a common profile: they are all on a steep career trajectory and have been rated at the top of their peer group.
Typically between three to twenty years into their career, their experience spans core commercial functions in both industry and consultancy.
We commonly place individuals from Board level through to junior management positions into the following sectors and functions.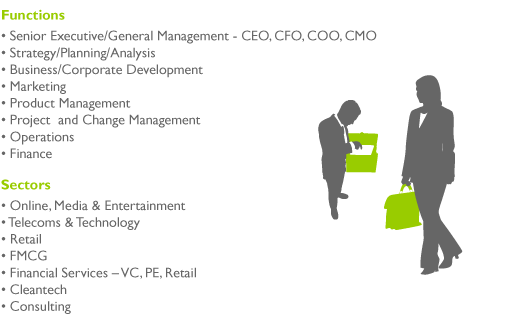 How we recruit
Up values the importance of understanding your business in-depth and exploring the brief in detail upfront. Our experienced team applies lateral thought and creativity to identifying potential candidates and provides a consultative service throughout by sharing market insights and feedback. We guarantee to meet every individual before putting them forward to ensure suitability in terms of skill set, experience and cultural fit.
Our screening process will set the bar for all your recruitment; we will not waste your time by introducing inappropriate candidates.
Up offers flexible recruitment solutions including:
• Contingent Selection - utilising our existing network to identify candidates for specific roles on a success fee basis
• Retained Search - conducting a targeted search by proactively mapping the market as well as accessing our network to produce a shortlist of on-brief candidates
Regardless of the approach, we prefer to work on an exclusive partnership basis. This will save you time and money as well as delivering a clear message to the market.

Talent pool development and introductions
We will identify synergies with members in advance of vacancies to ensure you never miss out on the right people.
Today's 'war for talent' requires companies to be proactive in attracting high-flyers. To attract the best talent to your organisation, relationships with the right people should be fostered over time, not left until a vacancy arises.
Thanks to our investment in the Up network, we are uniquely placed to market your company to our elite talent pool. This helps develop relationships, identify synergies and suggest individuals in advance of actual vacancies. You attract the best people ahead of your competitors. Our ability to identify people and opportunities, and to behave proactively for both companies and individuals, are key differentiators.
Up has created a leading edge online platform to support the development and management of bespoke talent pools.

Outsourced HR and recruitment services for SMEs and VC/PE firms
As fast-moving companies with ambitious growth plans and targets, you need to focus on the core objective of growing your business. You do not have the time or resource required to identify, engage, develop and retain great people and yet they are critical to your success. Up can remove this area of pain and deliver a cost effective, fully managed service and provide ongoing advisory solutions. Our localised knowledge of people and start-up related issues is invaluable, particularly for SMEs based overseas and seeking to establish a UK office to fuel European expansion.

Up hosts network-wide events, (that you can sponsor), and also organises bespoke forums for companies to raise employer brand profile and support recruitment drives.
Due to the breadth of our network we are uniquely placed to bring together high-flyers from blue-chips to SMEs, entrepreneurs and investors. Attendees from a diverse range of sectors and functions provide fascinating insights and perspectives.
Up can organise events with a particular topic or sector focus and provide inspiring guest speakers.

Employer brand development and market research
Employer brand profile is a commonly neglected, yet critically important, consideration in today's competitive climate for talent.
Up can work with SMEs to deliver branded campaigns to raise your employer profile with our members via communications, events and a bespoke online micro-site. By canvassing the views of our network, insights can be gained to improve your recruitment process, to develop more effective recruiting messages and to raise your employer brand perception.